In a now deleted tweet, Conservative MP for Mansfield Ben Bradley said that in his constituency, "One kid lives in a crack den, another in a brothel".
He went on to say that free school meal vouchers effectively lined the pockets of drug dealers and pimps. This tweet was part of a defensive thread explaining why he was one of over 300 Conservative MPs who voted against proposals to provide disadvantaged children in England with free meals until Easter 2021.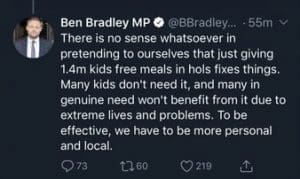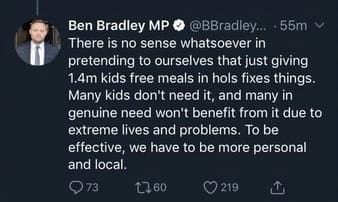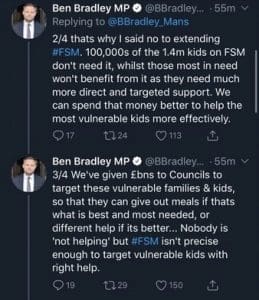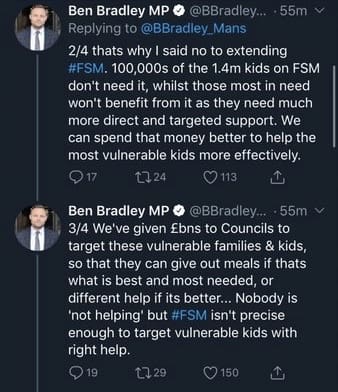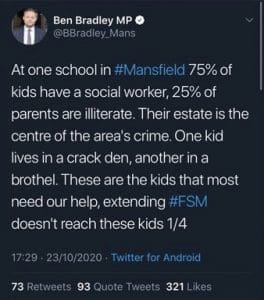 But Bradley's comments didn't go unnoticed on Twitter:
Putting "£20 going to a crack den" aside.

It alarms me that Ben Bradley knows there's a child living in a brothel/crack den in his patch, and he's seemingly content, knowing that.

I wouldn't sleep if there was evidence a child in Tooting was in that situation. pic.twitter.com/TLLIALKMaX

— Dr Rosena Allin-Khan (@DrRosena) October 24, 2020
It turns out that ghoul Ben Bradley – who says parents of hungry kids will somehow spend school meal vouchers on crack and prostitutes – claimed £58,985.65 in HoC expenses in 11 months.

That's £5,362.33 a month. Free. Who's really bleeding the system @BBradley_Mans?#ShameOnYou

— David Maddock (@MaddockMirror) October 24, 2020
Tories: Good work, lads. All that focusing on Angela Rayner seems to have distracted the attention from us being horrible child-starving bastards. We've got through the week unscathed!
Ben Bradley: pic.twitter.com/U2z1iRqglK

— Drivelcast (@drivelcast) October 23, 2020
Bradley may be lying in his shocking tweet. Or perhaps he has inadvertently shone a light on the dismal state of Britain's care system under the Tory government.
Forced out of care
A spokesperson for Become, a charity for children in care, told The Canary:
Though we don't know the specifics relating to the situation in Mansfield, we do know that lots of children leaving care will end up in desperation coming out of the care system without support. Too many are left homeless or living in unsuitable accommodation. We are calling on the government to end this care cliff so that care leavers can get the support they need.
In June 2020, children's charity Just for Kids Law published a report revealing that hundreds of vulnerable 16- and 17-year-olds aren't being taken into care. Many are left to fend for themselves in unregulated accommodation, while others face homelessness, leaving them vulnerable to exploitation and abuse.
Regardless of whether Bradley's comment is true or not, it has shone a light on the Tory government's appalling failures to protect the welfare of vulnerable children. The vote against feeding hungry children was just another indication of the government's stubborn and determined campaign to neglect the children and young people most in need of support.
Perhaps Bradley should focus his energies on ensuring no child in his constituency is living in unsafe conditions, rather than advocating against free school meals on Twitter and Newsnight.
Featured image via Ev Style/Unsplash.